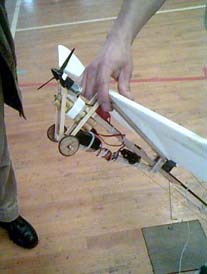 In France, Indoor modelling is growing too. People are discovering this new activity and some clubs in Paris area organise dedicated meetings. On Sunday, 23 Feb.,1997, it was Club Modélisme de Wissous turn. This club, temporarily without airfield, started this R/C Indoor activity for the 1997 season (with some hope to get a specific ground from the local district council...).
It was more a friendly meeting than a formal contest, where Indoor's fans could share ideas and tips.
Various models were presented : from very light (120 g) to "heavy" ones (400 g!), from slow flyers to mini-racers, from semi scale models to carbon prototype.