NEW!

Variante's plan available for free download !
What is that?
It is small (span <1m), light (<300 g), silent, non-polluting (electric motors), cheap (but however...), easy and quick to repair. You can fly on very small grounds (gymnasiums, tennis or soccer grounds), in all weathers (especially in winter!) and even outside (with no wind).
So are these new radio-controlled model planes!
MORE...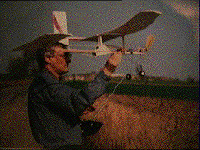 The author's Drosophile on take-off.