Tips (4)
---
4-blades prop:

Try a second propeller (identical to the first one!), crosswise mounted. The current is only 20% higher but the traction increases significantly. For example, an Indoor which could not take off is now flying without difficulty. However unnecessary on the XXS "Hi-tech" or the Drosophile with proposed motors!
---
Connectors:

It is possible to get good and cheap connectors for indoor needs by using just the insertable contacts of multi-contacts electronic connectors such as DB-25 types (male and female), generally used for serial ports in PC-computers. AMP, Amphenol, Canon, etc. all make high quality contacts for their industrial connectors. Normally they are inserted into housings but you can easily break the housing to get individual contacts, solder wires to them and then use heatshrink to build pretty small connector sets. If there's an industrial electronic store near you they can even sometimes provide you with individual contacts. In all cases, the unit price is very low (10 to 20 cents each), so don't hesitate and buy the best quality...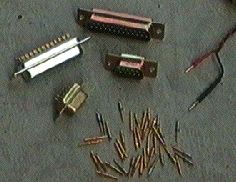 ---

Transport box:
If you are worried about safe transportation of your little planes, this might interest you. You can find at some sport shops (such as Decathlon in France) a plastic box normally used for archery in which you can fit small planes like the XXS.

Dimensions: 95 x 23 x10 cm.
Model: Mallette arc polypro.
Code (Decathlon): 563138.
Price: 25 $

With even smaller planes like the mini-XXS, you can fit in the box everything you need to fly indoor: your plane, your transmitter, your charger, etc...
---

HF speed-controllers for coreless motors:

Coreless motors such as DC5-2.4, 1717, should not be used with ESC without any precaution. In fact, the internal inductance of these motors is too low for a good filtering of current peaks generated by the electronic switching of usual ESC with a switching frequency around 3 kHz. Peaks of 10 times the nominal current are possible, i.e. 10 A for a mean current of 1 A! As a result, the efficiency of the motor, the life duration of the brushes and even the capacity available from the battery will be reduced significantly.


In such cases motor manufacturers recommend to put in series with the motor a coil to improve the filtering.Unfortunately, these coils must have a quite high inductance value to be efficient and therefore have a big size and an high weight which are not compatible with indoor models.


There is another smarter solution: use a low inductance coil but increase its impedance by using an ESC with a high switching frequency. Indeed impedance is proportional to inductance but also to current frequency. So, a given coil with a 60 kHz current passing through will have the same impedance (and therefore the same efficiency) as a coil with an inductance value 20 times higher but with only a 3 kHz current.

It is now possible to find ESC using this principle on the indoor market. I have been trying for 6 months now a prototype device from JMP-France with a 60 kHz switching frequency. You will find hereafter a comparison table between standard and HF ESC performances:
DC5-2.4 motor

WES 20X10 propeller

1/7.5 gearbox

Prop speed

rpm

2300

2700

3000

3200

3700

JMP 5 ESC

Measured voltage

V

4.8

5.8

6.5

7.1

8.4

Measured current

A

0.35

0.48

0.56

0.63

0.82

Electrical power

W

1.7

2.8

3.6

4.5

6.9

JMP HF9 ESC

Measured voltage

V

4.7

5.6

6.5

7.1

8.4

Measured current

A

0.24

0.4

0.54

0.63

0.83

Electrical power

W

1.1

2.2

3.5

4.5

7.0

Power gain

%

33%

20%

4%

0%

-1%
Conclusion:


As you can see, there is no benefit of using an HF ESC at full throttle (it's normal, by principle!) but at half or low throttle we can expect a flight duration 15 to 30% higher. In addition, and this is the most important, brushes and motor life duration should increase significantly. I suspect that Li-ion batteries will appreciate as well as they do not support current peaks!
Note:


Due to current limitation in the small coil, these HF ESC are only suitable for small motors such as DC5-2.4 or 1717.
---

How to modify the JMP HF9 ESC to work under 3 or 4 cells ?

The normal operating voltage of the HF9 is from 6 to 10.8 Volts but you can modify the HF9 by adding a solder link between pins 1 and 2 of the smallest PIC chip, as shown in the attached picture, and it will work with 3 or 4 cells only (3.6 to 4.8 V). This modification disables the undervoltage detection (and therefore also the battery protection under deep discharge). You could alternatively short the zener diode (Marked "YT") with a small piece of wire for the same result.

---

Small wires.

Tails of mouses... computerwise are full of small electric wires with different colors which the size and the flexibility of are perfectly suitable for servos or motor connection on most of our Indoor planes. So, next time your mouse or your friend's one is dead, get its tail back!
---
| | |
| --- | --- |
| Back to Indoor's page. | Back to home page: |